Along with the new season comes new trends in clothes, shoes, hair, and most importantly MAKEUP! Want to know the makeup trends you should be looking for and trying this fall and winter? Perfect! You've come to the right place! I'm going to be posting the makeup trends I'm excited about wearing this season along with pictures of how I would rock it, and of course helpful tips and tricks for you so you can recreate the look yourself.
Today is going to be all about the "reverse smokey eye" (aka upside-down smokey). It's exactly what it sounds like. All the smokeyness in the look is along the bottom lash line instead of the top..."business on top, party on the bottom" LOL! Not only is this look a fun and fresh take on the traditional smokey eye (which will NEVER go out of style), it's also very easy to recreate!
Here's how the look appeared on the runways:
love the navy
more traditional silvery/black smokey
Here's how I would wear the look:
I choose a dark green to create my reverse smokey.
Be sure to keep the lid nice and simple.
I really like this color combo! Colors I used are in the tips below.
To avoid major fallout do your eyes first! That way you clean up underneath your eyes THEN apply your foundation and concealer. We want it to be smokey not raccoon-y after all.
To keep the smokey color under your eyes in place, line your lower lash line with a pencil first as a base, then press the shadow overtop with an angled or pencil brush.
Keep your lids light and natural. Think golds, silvers, tans and other neutral colors. If you choose to use a color do a light washes of it over the whole lid. If you go too dark, it's going to turn into more of a traditional smokey eye. I choose a purply/grey color for my lid (Scene by MAC).
Avoid applying liner to your top lash line. If you feel like you just can't skip that step try pressing a black shadow into the lash line with a stiff angle brush. Or wear your invisible eyeliner!
Want to make the look more dramatic? Add some glitter to the lid and some fake lashes!
Try using a variety of colors on the bottom to add the smokeyness. Navy, black, brown, purple, and garnets would all be great! Here I used a dark green (Club by MAC) closest to the lash line then a lighter green (Olive by MAC) to soften and blend out the edge.
The look on the runway had fresh dewy skin and nude lips. Try tinted moisturizers or light coverage foundations to achieve the look (here I used MAC Face and Body foundation). I also ran a little bronzer through the back of my cheeks, and applied a cream blush on the apples for a hint of color.
As always do what you want! Make the look as clean or smokey as you like. You can even play with different lip colors; I think it would look awesome with a bright lips!
Product you should try: The herbal lip slix by Palladio which is what I used for this look in the shade "naked." You can buy Palladio products at Sally's and other beauty stores. The lip slix are described as "lip gloss crayons" and are super easy to use. Since they are in pencil form you just draw them on! I think they're great and I can't wait to try more colors!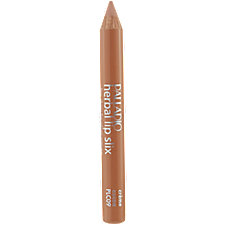 Do you like this makeup trend? Do you think you'll try it? Let me know what you think. If you try it out I'd love to see it! Post a picture on my facebook page riiiiiight here:
http://www.facebook.com/makeupbycaseyb
.
For the love of beauty and trendy makeup,
...Casey B