Christmas is right around the corner so I thought I'd do post on some beauty related products that would be great stocking stuffer ideas! Even if you aren't literally stuffing a stocking for someone, add a few of these into their gift to make it extra special.

As an added bonus ALL of these products can be found at your local drug stores for $10 or less (woop-woop!).
1.
Revlon Super Lustrous Lipgloss
($8.00) - Read about my love for this product
here
!
2. Revlon Colorbust Lip Butters ($8.00) - Since this is a brand spankin' new product I haven't even tried these for myself yet. However, I've heard TONS of great reviews on them and seen a million swatches...I can't wait to snag a few of these for myself (...and a friend, right?!). These lip butters are supposed to be the happy medium between a lip balm and a lipstick!
3. EOS Lip Balms ($3.50) - These little babies are my favorite lip balms, I literally have them everywhere. They are perfect for keeping your lips hydrated all winter long. You can purchase them individually or in a sets of 3, perfect for splitting between 3 lucky friends for Christmas! My favorite flavors?...the lemon and the mint!
4. Confetti Nail Polishes ($3.00) - Nail polish is a fun way to personalize any gift. Pick out a color your friend wouldn't normally purchase for herself to keep it fun! With this price tag, and the huge array of colors, give them a couple!
5. Milani Retractable Eyeliners ($5.00) - I love these eyeliners! I use them as a regular liner or blend them in to use as a base for an eyeshadow. They come in a range of neutrals, blues, and even greens!
6. A Set of Fake Lashes ($5.00) and Duo Lash Glue ($6.00) - Lashes are a girls best friend (and diamonds...but we're on the cheap!)! You can pick out full sets, half sets, and even individual clusters. My favorites are the Ardell Demi Wispies (natural looking without being too long or thick) and individuals.

These come in different lengths: short, medium, long. Go for the short or medium,
the long ones are going to be too long for 99% of ladies.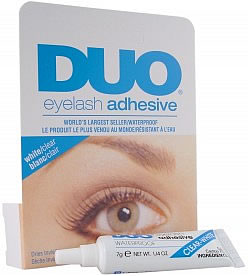 There's more then one Duo. Some try clear and other dry black, I always go with clear.
7.
Eyelash Curler
($5-10.00) - Eye lash curlers come in a range of prices so take your pick! To read more about curling your lashes click
here
.
8. Tweezers ($10.00) - I really like the Revlon Ultimate Point Tweezers because the tip is super fine, perfect for getting every little hair (and for applying lashes!).
9.
Grooming Scissors
($10.00) - Perfect for trimming brows! Click
here
for more brow tips!
10. Physician's Formula Eyebrightener ($8.00) - I LOVE THESE and they come in a couple different shades. These are the perfect shadows for hilighting your brow bones and the inner corners or your eyes. I also like to use them across the tops of the cheeks, on the cupids bow, and down the bridge of the nose for an extra glowy complexion.
As I've mentioned before, drug stores have sales on their makeup ALL the time, and if you have a store card you can add even more to the savings.
For all the people who shop at CVS don't forget to scan your CVS card at the stand alone card-scanner-thingy (that's what I call it anyways) every time you go in.
You never know when a $5 in Extrabucks coupon will print out.
SCORE!
Another great place to look for beauty related gifts is TJMaxx!
Check out their makeup, skin care items, and even fragrances!
They have all name brand products but for a fraction of the cost.
I recently bought the Shady Lady palette by The Balm for $12 (reg. $40.00)!
Granted it has been out for a while but I've wanted it for for-ev-er.
I was so excited to see it in TJMaxx! I snatched up in a hurry, and I've used it every day since.
Who doesn't love TJMaxx?!