I'm back with my third Lady Gaga inspired look that I think would be fun and festive for the fast approaching holidays! What's that…you didn't see my first two?! Check them out here:
For the third look I chose Lady Gaga at the 2010 Grammys! Who doesn't remember this look?!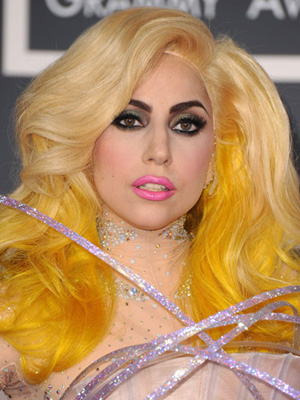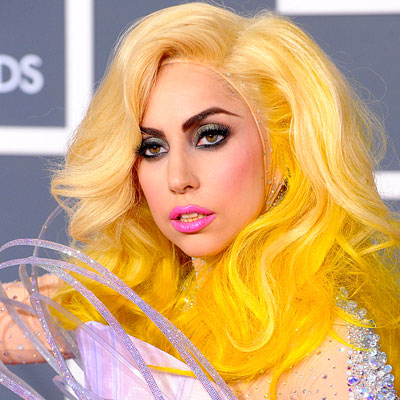 The emphasis in the look is…well…everything! Smokey eyes, strong brows, and bright lips. I understand this look could potentially be a little scary to a few ladies (…or most ladies?), but I for one am in love with it. One of the biggest "rules" in makeup is to pick

one

feature at a time to emphasize. It's the sure-fire way to avoid looking like a clown. But we all know what they say about rules; they're just meant to be broken!
Eyes:
prime your lid (Green Stroke by MAC)

Silver eyeshadow (all over the lid and under the eye- Electra by MAC)

dark green eyeshadow (apply over the silver- Club by MAC)

Light brown (contour and blend out crease and under the eye- Puppy by Stila)
The hard part as far as the eyes go is finding the shade of shimmery silvery-green eyeshadow to use.
Other than that there's nothing tricky about this shadow application!
She is wearing false eyelashes in this look, but they aren't nearly as dramatic as the other looks. Choose a natural, full set of lashes for a little extra length.
For the bold brows Gaga is wearing fill in your brows with a darker shade then usual and extend the tail end of your brow down further for a little extra drama!
Cheeks and Lips:
Bright pink blush (applied lightly- Pink Swoon by MAC)

Hot pink lips (I used NYX Dollymix Lip Liner & MAC Magenta lip liner with an Inglot lipstick
The little bit of green in the eyeshadow looks amazing with the hot pink lip!
Options to jazz it up! JUST KIDDING. This time the options are for toning it down (if you must...):
The obvious choice for toning the look down is to pick one: eyes or lips. If you like the lip color and aren't sure about the eyes check out my Festive Pink Gaga Inspired Look as an option. It's virtually the same lip color but with different eyes!
Don't forget about the strong brow and bold lip combo, it's very fresh and pretty! (Like this one here.)

Go for a bright pink gloss instead of the lipstick. It will be a shear wash of color but still give a similar over all affect without being as bold.

Go lighter on the brows

Choose matte eyeshadows instead of shimmery ones

Don't bring the shadow up above the crease; keep it on the lid only for a more subtle smokey-ness.

Keep the shadow very close to the lower lash line instead of bringing it down so far.
Just give it a try! That's one of the best things about makeup, it easily washes off! If you get the eye look on and add your pink lipstick and absolutely hate it, just wipe it off and go for a nude lip or clear gloss. No harm done! I have a feeling most ladies wouldn't hate the look on themselves, they would just be too nervous to wear it. The truth of the matter is this: the only thing you need to pull off any look is the confidence to do so. I know it would look great on you!
For the love of beauty and daring to do it,