While browsing the internet I stumbled across this old (it's from 2009…is that old?...) picture of Leighton Meester at the 2009 Emmys.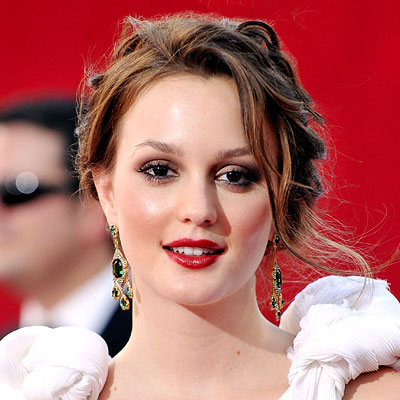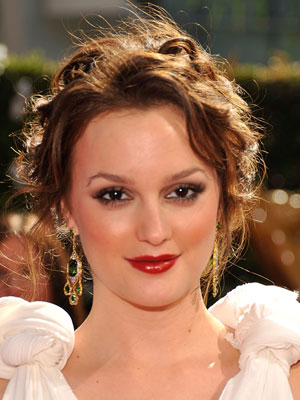 She's wearing a nice bronzy eye with a shiny ruby red lip, and she really looks amazing! I think this look is classically beautiful and would be a great go-to look for any special occasion (just a heads up, Valentine's Day is right around the corner!). This makeup look isn't complicated and it doesn't require many products, so everyone give it a try! Plust check out the pictures of the end and see just how versitle this look really is!
Bronze base (optional- MAC Paint Pot in Indianwood)

Bronze shadow with a little shimmer (lid and lower lash line- Bronze by MAC )

Matte soft brown shadow (blended through the crease- Bamboo by MAC)

A shadow that matches your skin tone (brow highlight-I used my actual face powder instead of shadow)

Black eyeliner pencil (for your water line, and tight line)

Black mascara (top and bottom lashes)

Individual lashes (outside corner- I skipped this step but it looks like Leighton is wearing them)
TIP for blue eyes: Choose a bronze shade with more of an orangy undertone to really make your blue eyes POP!
Leighton skin looks 100% flawless so I decided to use a full coverage foundation

Bronzer (to contour the cheeks a little- Soliel Tan de Chanel)

Peach blush (apples of the cheeks and swept back towards the hair line- Peaches by MAC )

Highlighter (along the tops of the cheek bones- Silverdusk by MAC )
Red lip liner (line and fill in lips-Wine by Love My Lips)

Ruby red lipstick (I used a color from the Coastal Scents 32 Lip Palette)

Red gloss (applied straight over liner- Revlon Colorburst Lipgloss in 160 Firecracker)
What to dress this up even more?
·
Add corner or full strip of lashes
·
A little bronze glitter never hurt anyone! (I love MAC's Reflects Antique Gold)
·
Add a black winged out liner along the top lash line
What to tone it down a bit?
·
Use a lip stain instead of a lipstick and gloss. You can even just use a lip liner to fill in your lip and top it with a little chapstick.
·
Loose the red lips all together and go for a natural lip.
·
Use a lighter coverage foundation so that your skin peeks through a little more.
Here are few variations of this look you might aslo like...
Toned down
Smokey-er version
darker lips
a little less smokey version with a pink lip = perfect for summer!
Change it up, play it up, and make it your own!
For the love of beauty and easy makeup,